5 Finest Operating Hydration Packs and Vests of 2020
Whether training for an ultra or heading out on a casual jog, the right running hydration pack will carry all the gear and water you need for a successful run.
There's been an explosion of running vests and hydration packs in the past few years. Not only does that mean there are more options, but they're also more comfortable and functional than ever before. Improved designs have led to less bounce and chafing, and more comfort mile after mile.
From mountainous Colorado trails to the wilds of New Zealand, we've put a lot of miles on hydration vests. We tested for overall comfort, capacity, fit, and ease of use. And while there isn't a single hydration pack that will work for every person, we've included a variety of options to fit your style of running.
For more help choosing the best hydration pack for running, check out the buyer's guide at the bottom of this article.
The Best Running Hydration Packs & Vests
Salomon Advanced Skin 12 Set: $165
Comfort is a top consideration in a running vest, and it's where the Advanced Skin 12 Set excels. The vest rides almost unnoticed, hugging the back, shoulders, and chest. It doesn't bounce, even when loaded with a full pack of gear, water, and food. One of our editors ran the Leadville 100 in it with zero chafe.
This pack is designed for runners who need a decent amount of gear but also require comfort for moving fast. It has one large internal pocket with a bladder-hanging system compatible with a 1.5L bladder (not included). The shoulder straps each have three open pockets and one zippered pocket. From ultraraces to casual runs, this is a comfortable, durable, hardworking vest.
Gear capacity: 12 L
Weight: 13.05 oz.
Best for: When you need to maximize comfort while carrying gear and water
Shop Now
100 Miles, No Chafe: Salomon Makes My Favorite Trail-Running Vest of 2019
The Salomon Advanced Skin 12 Set is a remarkably comfortable vest that carries plenty of gear for long ultramarathons. I carried it through the Leadville 100 for this review. Read more…
Nathan Sports VaporAiress & VaporAir: $150
Anyone who runs in hot climates will appreciate this breathable vest. At just 12.2 ounces, this pack won't weigh you down. But it's big enough to hold all the race-day necessities. It comes with a 2L hydration bladder, and the front storage pockets can easily fit 22-ounce soft flasks (sold separately).
Our testers didn't have any problems with chafing and appreciated the breathable, mesh-like fabric. The two adjustment points allowed us to get a custom fit, which will minimize the dreaded pack bounce. Side toggles allow you to carry trekking poles, and the back kangaroo pocket is perfect for easily stashing an extra layer.
Gear capacity: 7 L
Weight: 12.2 oz.
Best for: Going light and fast
Arc'teryx Norvan 7 Running Vest: $179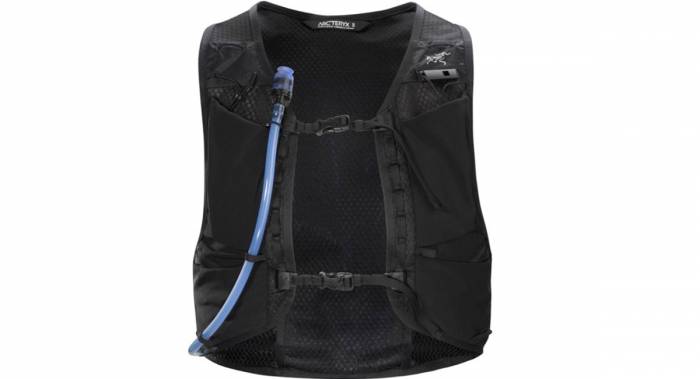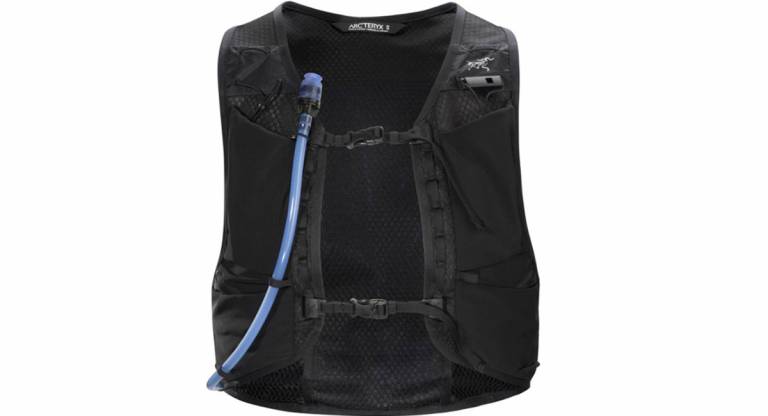 The Arc'teryx Norvan 7 Running Vest is a durable, technical, and streamlined pack for all lengths of minimalist runs. The vest comes with a 2L bladder that is designed to sit low on the torso. This helps keep bouncing to a minimum and is a helpful reminder to keep a good running position (ribs down).
At first glance, the carrying capacity looks to be rather small, but we were pleasantly surprised how easily and comfortably it fit emergency gear, snacks, and water. The material is a little on the abrasive side, so we wouldn't recommend going shirtless. But it has shown no signs of wear after 6 months of intense use, which makes this a quality investment.
Gear capacity: 7 L
Weight: 9.25 oz.
Best for: Going light and fast, runs where you don't need a lot of extra gear
Shop Now
Osprey Duro 1.5 Hydration Vest: $90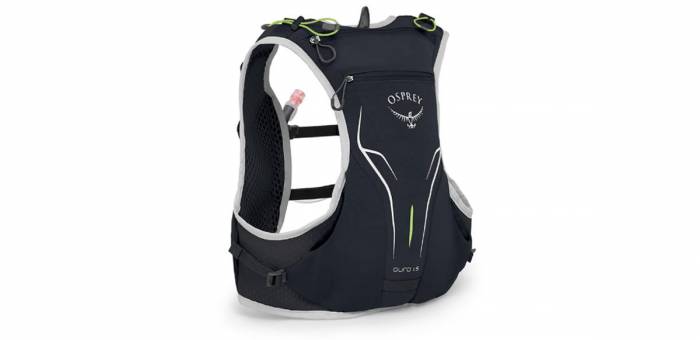 This well-designed pack has everything you need in one sleek package. The medium/large size holds 1.5 L of water, and the small/medium carries 1 L. The lower stretch mesh and zippered pocket offered up just enough room for us to fit a light shell and snacks.
And both our male and female testers were able to get a comfortable, no-bounce fit thanks to the variety of adjustment straps. The double front clips are adjustable and helped hold everything in place, even with a full bladder. Speaking of which, this hydration vest comes with Osprey's unique "Hydraulics" reservoir. The streamlined design allows for easy loading, and we like that it lays flat in the pack.
Gear capacity: 1.5 L (M/L)
Weight: 10 oz.
Best for: A unisex fit, hot pavement runs, everyday training
Shop Now
inov-8 Race Ultra Pro 2in1 Vest: $185
The Race Elite Pro 2in1 Vest is a pack that can transition seamlessly from a running vest that's great for 2- to 3-hour runs to a full-on ultrarunning or adventure run pack that's ready for your next 100K or 24-hour race. The ability to detach the backpack makes this a truly versatile pack.
Pack it full for long days out or go light and fast. GearJunkie editor Chelsey Magness and her adventure race team have been using this ultralight pack for the last couple of years for short training runs and adventure races around the world.
Adventure at the End of the World: Winning the Patagonian Expedition Race
We talked with the champions of the 2018 Patagonia Expedition Race — 7 days and 600 km across one of the wildest places on Earth. Read more…
The vest is easy to adjust, and the main compartment can accommodate a surprising amount of gear. In regards to water carrying capacity, it accommodates a 2L bladder and comes with two 500mL flasks and a speed cup.
So whether you're high in the mountains and speed cupping it or down in the valley with a bladder, this pack will keep you hydrated for the long haul. At a weight of 345 g and a price point of $185, this is an amazing multiuse pack for all your adventures.
Gear capacity: 10 L
Weight: 12.2 oz.
Best for: Training runs, endurance races
Shop Now
How to Choose a Hydration Pack for Running
Take a few moments to imagine what your runs look like. Do you plan to run commute around town? Hit the trail for an all-day sufferfest? Or enjoy a few easy miles? Do you run in extreme weather or need something versatile for a variety of training runs?
With this vision in mind, read on for four important hydration vest considerations.
Bottles vs. Reservoirs
Some runners prefer a bottle stored in the front pocket, and others want a full bladder on the back. This is mainly a matter of personal preference, though if you plan to take on multiday or mega-mile runs, a larger bladder is recommended.
Capacity: Water & Gear
The best advice is to choose the lightest vest that will get the job done. For backyard trail runs, the 12L Salomon Advanced Skin offers plenty of space. And if you regularly switch between all-day outings and minimalist runs, a versatile option like the inov-8 2in1 is a great choice.

Sizing
Getting the right fit is key for any piece of gear, but especially for a running vest. When possible, head to your local running store and ask for a fitting. For online shopping, take the time to measure yourself and refer to sizing charts.
For women, you need to not only make sure the length and torso circumference are correct, but also be sure to take bust size into account. The women's-specific VaporAiress offers two adjustment points for an easy fit, and our female testers were pleased with the overall fit.
Extra Features
Extra features can make the difference between an OK vest and an awesome one. Depending on your running plans, look for extra pockets, reflective materials, and easy-to-use trekking pole-keepers.
Whatever pack you end up choosing, remember the goal is to get out and run. Use a vest to maximize comfort and hydration, and enjoy your time on the trail.
Have a favorite running vest or hydration pack we missed? Let us know in the comments for future updates to this article.
Need a good pair of running shoes? Here you go:
The Best Running Shoes for Women in 2020
Whether training for a marathon or logging a few easy miles in the neighborhood, we found the best running shoes for women in 2020. Read more…
The Best Running Shoes for Men in 2020
We've logged hundreds of miles in the latest shoes this spring to help you find the best running shoes. These kicks fit every style and budget. Read more…