Adventure News of the Week: Daring Cliff Rescue, National Parks App, and More
Image credit: NPS
Support us! GearJunkie may earn a small commission on affiliate links in this article. Learn more. Home »News» Weekly Adventure News: Daring Cliff Rescue, National Parks App, and More
From inspiring to tragic, Adventure News of the Week presents a round-up of the top news in the world of exploration and adventure.
OLYMPICS: 17-year-old title as the first woman in the US slalom canoe team. Evy Leibfarth, 17, will be able to compete in Tokyo in the slalom canoe and kayak after winning a K1W spot and a C1W spot last week.
After the Olympic Games were postponed due to the pandemic, she will finally be able to compete this year. In 2019 Leibfarth was the youngest and first American to qualify the USA for a place in slalom canoe at the 2020 Olympic Games in Tokyo.
RUN: Des Linden breaks the 50 km world record. Long distance champion Des Linden broke the world record for 50 km last week, ran the track in 2:59:54, beating the previous women's world record by more than 7 minutes.
Vacation with the birds: Campspot reveals the most booked treehouse stays
Would you like to experience a piece of nature without roughing it up? Check out these popular and unique tree house vacation rentals. Continue reading…
RESCUE: Mountain Biker Falls Head First Off Cliff, rescued by LA Sheriffs. A mountain biker fell off a dirt road near the mountain. Wilson in the Angeles National Forest on Thursday, require a precarious rescue.
He was found "[hanging upside down] With just a thin string tied to a bicycle around his ankle, his brother sat at a height of several hundred meters above the ground, LA authorities reported.
The LA Sheriffs Department did not disclose the man's identity and the man has not reported any injuries.
CLIMBING: The North Face Reveals Official Olympic Uniforms for Tokyo 2021. Equipment for athletes from the USA, Japan, South Korea and Austria, The north wallThe kit offers "an experience that climbers have never seen before".
The climbing uniforms are made of a stretch material with laser cut perforations, taped seams, armpit gussets and a sleeveless design, all made using 4D printing. North Face global athletes Ashima Shiraishi and Nathaniel Coleman helped design the uniform.
PARK: Celebrate National Park Week with the NPS April 17-25. The National Park Service (NPS) was launched just in time for National Park Week his first mobile app.
Created by park rangers who mobile NPS platform "Provides the public with up-to-date information on all 423 national parks in one easy-to-use app."
Find more ways to celebrate with the NPS Here.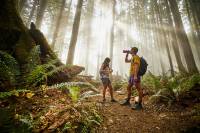 Hydro Flask Drops limited 'giveback' collection bottles to finance trails
In addition to offering epic trail designs, Hydro Flask's limited edition Scenic Trail Collection bottles also help fund three major trail organizations. Continue reading…