Emerging Gear: 'Ovenless' Oven, Limestone Wetsuit, PCT Pack, and More | 2021-05-27
Take a peek at emerging products from the sometimes cutting-edge, sometimes quirky world of gear design. Explore the grid or click through for a slideshow.
Support us! GearJunkie may earn a small commission from affiliate links in this article. Learn more.
View:
☷ Grid
☰ List
❏ Slideshow
Mountain Hardwear PCT Pack
Mountain Hardwear's newest multi-day pack has a hip belt design, unique from other packs. The PCT Pack — 50L & 55L ($315) —which went through months of R&D and 17 prototypes, has a fully recycled shell material and Cordura fabric construction with a PFC-free DWR treatment,  a breathable trampoline back panel, and Mountain Hardwear's "hovering hip belt." The hovering belt moves up, down, side to side, and pivots for dynamic movement and better compatibility with the human gait. MH describes it as "efficient and comfort-driven" — and we can't wait to test one out.
Omnia Oven
The Omnia is the "oven for the ovenless" (i.e. those traveling or outside). Designed for when you only have a small camp burner but want to bake, steam, and more, the Omnia (from $67) is your fully heat-circulating gal. The stove-top oven has three parts: a bowl-shaped base that conducts and circulates lower heat, a circular pan in the middle that circulates upper heat, and a lid to trap heat. The full system provides heat up, down, and all around — basically an oven in a portable package. Stuck on what to cook? Think casseroles, tray bakes, quiche, and more.
Filson x MTNTOUGH Logger Cap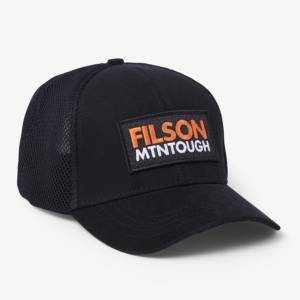 Filson's newest capsule was made in collaboration with MTNTOUGH, a Montana-based group of backcountry athletes. Pick up the new, simple, and classic Filson x MTNTOUGH Logger Cap ($45), made (in the U.S.) with canvas front panels and mesh rear panels and an adjustable strap to rep love for both brands and the great outdoors.
Forsake Thatcher Low
Sneaker-style brand Forsake recently made its Thatcher boot into a low hiker. The Thatcher Low ($90 on sale) has a lighter weight synthetic breathable mesh upper (all vegan materials) and a gusseted tongue. Or, there's the Thatcher Low WP with a full-grain leather upper if you're looking for a waterproof version. (We found the Thatcher is best for those with lower arches/ flatter feet.)
Good to Go Meal Kits
Good to Go makes some great (read: delicious) meals in a bag, but at $12-14 each, they aren't the cheapest. Luckily, you can now treat yourself to Good to Go's budget-friendly bulk meal kits ($73 and up). There's one specific to thru-hikers, some for a variety of trip formats, a "resupply" kit, and one for vegans too. The kits include meals like Thai curry, quinoa bowls, granola, and more.
Chacos x Camp Brave Trail Sandals
Chaco has partnered with Camp Brave Trails, a nonprofit that supports LGBTQIA+ youth and gets them outside, for this collab. The Brave Trails Sandals ($105) have rainbow polyester webbing straps in three color themes and various classic Chaco styles, available in men's and women's sizing from 5-15. Best of all, Chaco donates 10% of proceeds from each pair to support Brave Trails' mission.
Galapagos Limestone-Neoprene Wetsuit
Launched on Kickstarter today, the Galapagos Wetsuits (about $300) are made from limestone-based neoprene, eliminating the effects standard petroleum-based neoprene has on our environments and oceans. The Galapagos Wetsuit has an inner heat lining, water-resistant interior, no-zip slip-on entry for comfort and movement. And it comes in two style options for men and women. It joins Patagonia's Yulex wetsuit as one of the only sustainable options on the market so far.
Munjoi 4-in-1 Footwear
MUNJOI, founded by shoe designer Patrick Hogan, is out to make plant-based shoes — specifically, versatility, and sustainability wrapped up into a durable footwear package. The 4-in-1 All Dai ($98) is a sneaker, backless mule, sandal slide, and open-toed sneaker combo. "With almost 70 million pairs of shoes manufactured every day, there is a need to create less footwear to reduce our footprint," said Hogan. "Why buy four pairs when you only need one?" Cheers to that — minimize consumption, maximize style.
Garmin Descent Mk2S Dive Watch
A smaller, "more fashionable" model, Garmin's Descent Mk2S Dive Watch offers functionality and performance, with extra perks for female divers. The Descent Mk2S ($999) has a 1.2-inch (new sunlight-readable!) display and a 43mm case. It's a full-featured dive computer that doubles as a GPS sportswatch on land: it has modes for single- and multi-gas dives, the ability to store your dive data, Garmin app compatibility, health monitoring, and built-in sports apps for running, training, swimming, and more. For female users, the watch also offers menstrual cycle tracking and  pregnancy tracking. 
Wrangler All-Terrain Gear (ATG) Line
Wrangler's functional All Terrain Gear (ATG) line now caters to men and women and offers some new apparel tech too.  The "athleisure" line includes the Cargo Pant ($49), now with four-dimensional stretch and recycled fabrics, and the women's Cargo Legging ($50), with unique features like a back stash pocket and scuff guards. And of course, cargo pockets on both. Looking for more? Check out the full women's ATG collection here.
GT Bicycles Friend Ship BMX Bike
Built on a solid BMX platform to deliver "experience, emotion and excitement" to younger riders, GT's Friend Ship BMX ($215) boasts 20-inch wheels, an adjustable alloy lever, steel handlebars, a customizable dry-erase BMX plate, and your kiddo's choice of various Friend Ship characters, like Space Ninja's Unica the Unicorn or Carter the Cat and Becker the Bear. And really, what kid wouldn't want to ride on a friend ship?
Wahoo Rival ELEMNT Update
This isn't a new product, but it's an update worth mentioning. Wahoo Fitness added a super-cool feature to its Rival ELEMNT watch and app: headwind control! Yup, the Rival ELEMNT will now regulate Wahoo's "headwind" smart fan in several ways. 1) Via the heart rate sensor — it will push more air as your heart rate increases, 2) via your speed (from a Wahoo KICKR or other speed sensor), or 3) manually — users can change their headwind resistance in 25% increments (from 0-100%).
◀︎
▶︎
Emerging Gear: 'Ovenless' Oven, Limestone Wetsuit, PCT Pack, and More

Mountain Hardwear PCT Pack

Mountain Hardwear's newest multi-day pack has a hip belt design, unique from other packs. The PCT Pack — 50L & 55L ($315) —which went through months of R&D and 17 prototypes, has a fully recycled shell material and Cordura fabric construction with a PFC-free DWR treatment,  a breathable trampoline back panel, and Mountain Hardwear's "hovering hip belt." The hovering belt moves up, down, side to side, and pivots for dynamic movement and better compatibility with the human gait. MH describes it as "efficient and comfort-driven" — and we can't wait to test one out.

Emerging Gear: 'Ovenless' Oven, Limestone Wetsuit, PCT Pack, and More

Omnia Oven

The Omnia is the "oven for the ovenless" (i.e. those traveling or outside). Designed for when you only have a small camp burner but want to bake, steam, and more, the Omnia (from $67) is your fully heat-circulating gal. The stove-top oven has three parts: a bowl-shaped base that conducts and circulates lower heat, a circular pan in the middle that circulates upper heat, and a lid to trap heat. The full system provides heat up, down, and all around — basically an oven in a portable package. Stuck on what to cook? Think casseroles, tray bakes, quiche, and more.

Emerging Gear: 'Ovenless' Oven, Limestone Wetsuit, PCT Pack, and More

Filson x MTNTOUGH Logger Cap

Filson's newest capsule was made in collaboration with MTNTOUGH, a Montana-based group of backcountry athletes. Pick up the new, simple, and classic Filson x MTNTOUGH Logger Cap ($45), made (in the U.S.) with canvas front panels and mesh rear panels and an adjustable strap to rep love for both brands and the great outdoors.

Emerging Gear: 'Ovenless' Oven, Limestone Wetsuit, PCT Pack, and More

Forsake Thatcher Low

Sneaker-style brand Forsake recently made its Thatcher boot into a low hiker. The Thatcher Low ($90 on sale) has a lighter weight synthetic breathable mesh upper (all vegan materials) and a gusseted tongue. Or, there's the Thatcher Low WP with a full-grain leather upper if you're looking for a waterproof version. (We found the Thatcher is best for those with lower arches/ flatter feet.)

Emerging Gear: 'Ovenless' Oven, Limestone Wetsuit, PCT Pack, and More

Good to Go Meal Kits

Good to Go makes some great (read: delicious) meals in a bag, but at $12-14 each, they aren't the cheapest. Luckily, you can now treat yourself to Good to Go's budget-friendly bulk meal kits ($73 and up). There's one specific to thru-hikers, some for a variety of trip formats, a "resupply" kit, and one for vegans too. The kits include meals like Thai curry, quinoa bowls, granola, and more.

Emerging Gear: 'Ovenless' Oven, Limestone Wetsuit, PCT Pack, and More

Chacos x Camp Brave Trail Sandals

Chaco has partnered with Camp Brave Trails, a nonprofit that supports LGBTQIA+ youth and gets them outside, for this collab. The Brave Trails Sandals ($105) have rainbow polyester webbing straps in three color themes and various classic Chaco styles, available in men's and women's sizing from 5-15. Best of all, Chaco donates 10% of proceeds from each pair to support Brave Trails' mission.

Emerging Gear: 'Ovenless' Oven, Limestone Wetsuit, PCT Pack, and More

Galapagos Limestone-Neoprene Wetsuit

Launched on Kickstarter today, the Galapagos Wetsuits (about $300) are made from limestone-based neoprene, eliminating the effects standard petroleum-based neoprene has on our environments and oceans. The Galapagos Wetsuit has an inner heat lining, water-resistant interior, no-zip slip-on entry for comfort and movement. And it comes in two style options for men and women. It joins Patagonia's Yulex wetsuit as one of the only sustainable options on the market so far.

Emerging Gear: 'Ovenless' Oven, Limestone Wetsuit, PCT Pack, and More

Munjoi 4-in-1 Footwear

MUNJOI, founded by shoe designer Patrick Hogan, is out to make plant-based shoes — specifically, versatility, and sustainability wrapped up into a durable footwear package. The 4-in-1 All Dai ($98) is a sneaker, backless mule, sandal slide, and open-toed sneaker combo. "With almost 70 million pairs of shoes manufactured every day, there is a need to create less footwear to reduce our footprint," said Hogan. "Why buy four pairs when you only need one?" Cheers to that — minimize consumption, maximize style.

Emerging Gear: 'Ovenless' Oven, Limestone Wetsuit, PCT Pack, and More

Garmin Descent Mk2S Dive Watch

A smaller, "more fashionable" model, Garmin's Descent Mk2S Dive Watch offers functionality and performance, with extra perks for female divers. The Descent Mk2S ($999) has a 1.2-inch (new sunlight-readable!) display and a 43mm case. It's a full-featured dive computer that doubles as a GPS sportswatch on land: it has modes for single- and multi-gas dives, the ability to store your dive data, Garmin app compatibility, health monitoring, and built-in sports apps for running, training, swimming, and more. For female users, the watch also offers menstrual cycle tracking and  pregnancy tracking. 

Emerging Gear: 'Ovenless' Oven, Limestone Wetsuit, PCT Pack, and More

Wrangler All-Terrain Gear (ATG) Line

Wrangler's functional All Terrain Gear (ATG) line now caters to men and women and offers some new apparel tech too.  The "athleisure" line includes the Cargo Pant ($49), now with four-dimensional stretch and recycled fabrics, and the women's Cargo Legging ($50), with unique features like a back stash pocket and scuff guards. And of course, cargo pockets on both. Looking for more? Check out the full women's ATG collection here.

Emerging Gear: 'Ovenless' Oven, Limestone Wetsuit, PCT Pack, and More

GT Bicycles Friend Ship BMX Bike

Built on a solid BMX platform to deliver "experience, emotion and excitement" to younger riders, GT's Friend Ship BMX ($215) boasts 20-inch wheels, an adjustable alloy lever, steel handlebars, a customizable dry-erase BMX plate, and your kiddo's choice of various Friend Ship characters, like Space Ninja's Unica the Unicorn or Carter the Cat and Becker the Bear. And really, what kid wouldn't want to ride on a friend ship?

Emerging Gear: 'Ovenless' Oven, Limestone Wetsuit, PCT Pack, and More

Wahoo Rival ELEMNT Update

This isn't a new product, but it's an update worth mentioning. Wahoo Fitness added a super-cool feature to its Rival ELEMNT watch and app: headwind control! Yup, the Rival ELEMNT will now regulate Wahoo's "headwind" smart fan in several ways. 1) Via the heart rate sensor — it will push more air as your heart rate increases, 2) via your speed (from a Wahoo KICKR or other speed sensor), or 3) manually — users can change their headwind resistance in 25% increments (from 0-100%).

By Mary Murphy

Mary is based out of GearJunkie's Denver, CO office. She has a degree in English and Journalism, and been writing professionally for over four years. Her outdoor interests span from running to sport climbing, from landscape photography to pack-paddleboarding. If she's not writing, you can most likely find her at the top of a fourteener, or in a local bakery.

Topics: News, Outdoor

Sign up for our weekly email