The Greatest Face Coverings for Snowboarding & Snowboarding in 2020
We've tested the best face coverings for downhill skiing and snowboarding to keep you warm. Our expert knowledge will help you choose face coverings for skiing during COVID-19.
Skiing in 2020 will look a lot different than in the pre-COVID days. For one, you will likely need to wear a face covering while in line, on lifts, and riding. Fortunately, we've already been using them for years to keep warm!
Skiers and snowboarders are among the most experienced "mask" wearers on the planet. That's because a good face covering will block wind, protect from the sun, keep your face warm, and even provide a little protection from flying objects.
There are tons of options on the market, but we have some favorites. And check out the end of the article for advice on buying the best face mask for skiing. Keep in mind, most of the products listed below come in men's and women's styles and many colors and patterns.
Ski Face Mask Buyer's Guide
Lightweight Merino Wool Buff
Buff is the original face-covering brand — so much so that most people refer to tube-shaped neck gaiters simply as "buffs." And while you can still get the original in synthetic fabric, for skiing, it's hard to beat merino wool. The Lightweight Merino Buff ($29) has the advantage of being naturally antimicrobial, so it doesn't get smelly.
It will keep your face warm when wet and is easy to breathe through. This one is pretty light, though, so it's best for moderate temperatures and those who don't mind feeling the wind on their skin.
Check price at REI
BlackStrap The Tube
The Tube from BlackStrap ($25) uses technical fabric for a highly functional, breathable, and moisture-wicking face covering. It has UPF 50-plus UV protection and is treated with an antimicrobial coating to keep the stink away. The four-way-stretch fabric also gives you great mobility.
Check price at evo
Skida Cloudberry Alpine Neckwarmer
Skida makes a bunch of great face-covering accessories for cold weather. Among our favorites is the Cloudberry Alpine Neckwarmer ($28), which uses a Polartec microfleece for soft warmth against the skin.
The exterior fabric of poly-spandex with a moisture management technology (92% polyester, 8% spandex) is durable and has a tight weave to help block the wind. Simply put, it'll keep your neck warm. Pull it up over your nose for COVID compliance in the lift line.
Check price at Skida
Smartwool Neck Gaiter
A little warmer than most of the neck gaiters here, the Smartwool Neck Gaiter ($30) uses midweight merino 250 wool. The merino wicks away moisture and breathes enough to keep you cozy when the winds howl. But it's still light enough to tolerate on a bluebird day. This one pulls a 4.75-star rating with more than 100 reviews online.
Check price at REI
Phunkshun Convertible Ballerclava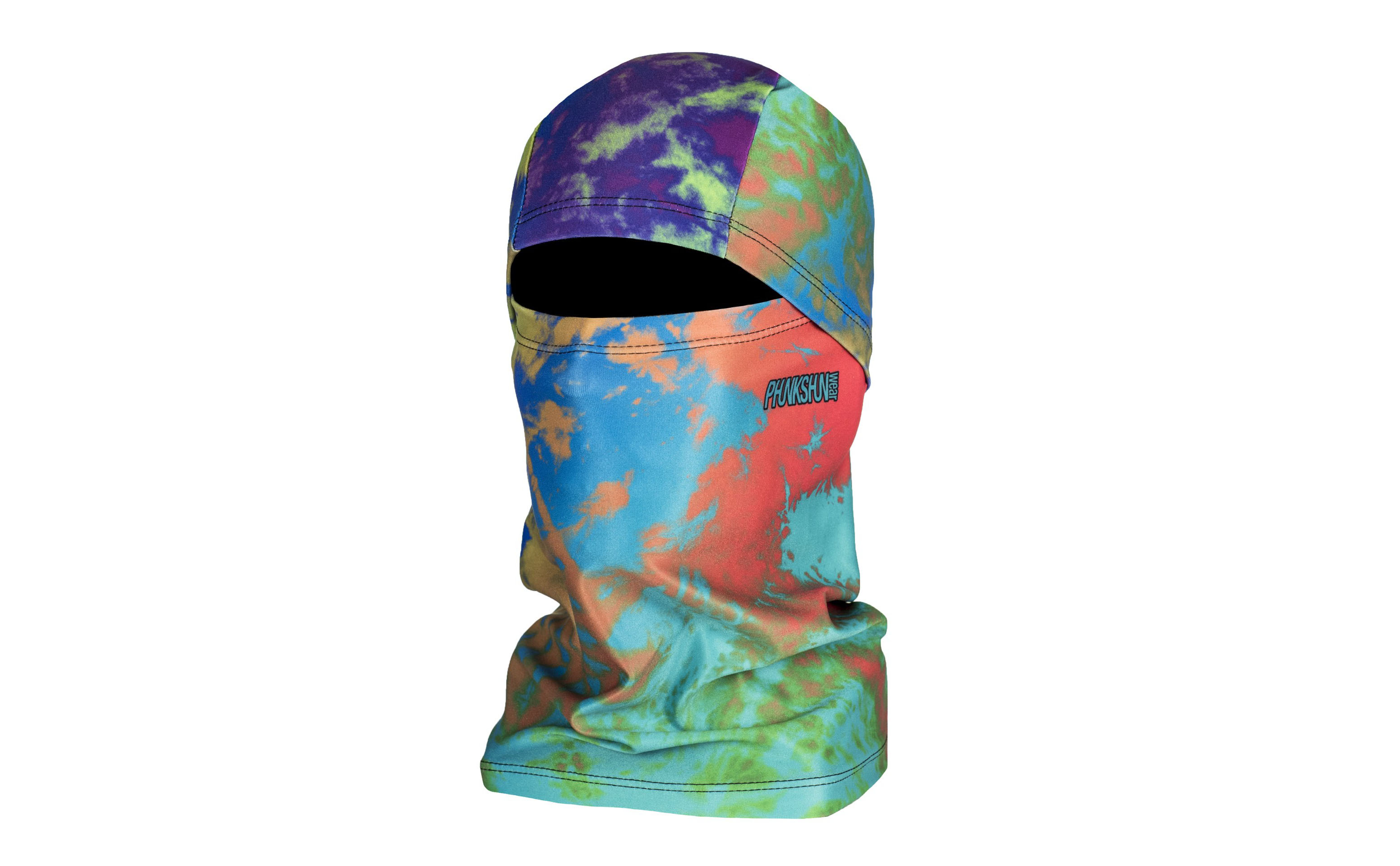 Made in Denver, Colorado, the Phunkshun Convertible Ballerclava ($30) gives skiers and riders versatile functionality through its hinged design.
Move the bottom half of the mask over/off your face to instantly adjust to temperature changes or drink a beverage. Slide it back over your face to help comply with COVID face-covering measures. Made with recycled polyester, this is a good value from a small brand.
Check price at Phunkshun
BlacksStrap The Hood Balaclava Face Mask
The USA-made Hood Balaclava is similar to the Phunkshun, above. But the BlackStrap Hood ($30-32) uses a slightly heavier "tri-blend" synthetic fabric that works well in colder weather. The four-way-stretch fabric also boasts SPF 50 sun protection. It is helmet-compatible.
Check price at REI
Anon MFI Face Masks
While we haven't tested this new mask from Anon Optics (founded by Burton Snowboards), it's definitely a unique one to check out.
The MFI Face Masks ($40-60) have the brand's MFI (magnetic facemask integration) technology to seal the mask panel to any magnetic ski goggles and provide a seamless and comfortable fit on your face. These face masks come in lightweight, midweight, and wool fabric options.
Check price at Anon
Oyuki Proclava
Among the lighter-weight balaclavas, the Oyuki Proclava ($30) has legions of fans. It offers enough head and face covering to block the stinging wind. But it's light enough to not turn your head into a swampy mess on a warm day on the slopes.
Plus, it easily fits under a helmet and transitions from a balaclava to a face mask to a neck gaiter in seconds. The 85% polyester and 15% spandex garment has racked up a perfect 5-star rating at evo.
Check price at evo
Columbia Titanium II Balaclava
This polyester-and-elastane blend balaclava ($45) is made with Columbia's Titanium moisture-wicking fabric with Omni-Shield technology, which works to repel moisture, snow, and more. If you don't like the balaclava style (or don't need maximum warmth), it comes in a lighter neck gaiter style too ($40).
Check price at Columbia
Seirus Magnemask Combo Clava
For seriously cold weather, the Magnemask Combo Clava ($51) combines removable face protection with remarkable insulation. The Combo Clava is a clever design that allows the wearer to remove the magnetically attached face mask with a simple pull.
But it retains the warmth of a balaclava when removing the mask. Using all synthetic materials, the mask won't retain moisture and dries quickly. The Magnemask carries a 5-star rating at REI.com.
Check price at REI
Outdoor Research Helmetclava Balaclava
Outdoor Research designed the Helmetclava ($42) specifically for wearing under a helmet. It has GORE WINDSTOPPER softshell fabric to keep you warm in stormy weather.
Soft, insulating fleece at the back of the neck enhances warmth while thermodynamic fabric at the crown and ear panels fits smoothly under a helmet without bunching. Finally, breathable fabric and a laser die-cut breathing port allow moisture to escape.
Check price at REI
How We Chose the Best Face Coverings for Skiing
There are a ton of ski masks, balaclavas, and neck tubes on the market. So if you walk into a store to buy one, you're going to be faced with an incredible number of choices. But here's how we narrow them down.
Brand: It might seem a little shallow, but after decades of combined skiing experience, our team has come to love certain brands when it comes to face coverings. After using some (like Buff) for literally thousands of outings, we've come to rely on them and can count on them for consistency and quality. So we take this into account when making our selections.
Materials: Chose a face covering made with synthetic fabrics such as polyester and spandex. Other good options use merino wool as the primary material. We love merino for its antimicrobial properties that fight off stink!
Design: We look for comfort first, versatility second, and looks third.
Reviews: We've tested myriad face coverings. But we also consider what other consumers say in reviews.
What to Look for in a Great Ski or Snowboard Mask
When buying a ski or snowboard mask, consider if you want a full head covering or simply a neck gaiter or face cover. Remember, you'll almost certainly be wearing a helmet and goggles while skiing or snowboarding. We recommend trying on your face covering while wearing your other accessories.
Other important factors include fit and versatility, such as the ability to be worn over the whole head or only the face or neck with a transformation.
Ski Mask FAQs
How Tight Should a Ski Mask Fit?
A ski mask should fit loosely around the face with plenty of fabric to move up and over the ears. For balaclavas, you want a snug fit around your head but a looser fit around the face so it doesn't constrict your movement. Neck gaiters should pull securely around your chin and nose if lifted but bunch comfortably around the neck when worn as a gaiter.
What Is the Best Material for a Ski Mask?
Get a mask that is either a synthetic blend of polyester and spandex fabrics or merino wool. Avoid cotton, as it will retain moisture and be cold against the skin.
Do Ski Resorts Require Face Coverings Due to COVID?
Yes, most ski resorts will require face coverings in certain areas during the 2020-2021 ski season. For example, Vail Resorts requires face coverings in areas such as in lines, when loading and unloading chairlifts, loading and riding in gondolas, and in indoor resort facilities.
What Face Coverings Comply With COVID Restrictions?
While it is currently unclear if resorts will require any specifications for face coverings, most Buffs, neck gaiters, and balaclavas will certainly keep your breath from spreading a long distance. Some heavier balaclavas have holes for breathing, as the heavy material would block air without them. As of the time of writing, it's unclear if resorts will permit this kind of face covering.
Have a favorite face covering we didn't include? Let us know in the comments for future updates to this article.
Do I Need a Reservation to Ski? What Epic & Ikon Pass-Holders Need to Know
Planning on skiing or riding anywhere this winter? Looking for info on reservations? We've got it all right here. Read more…
The Best Ski Socks of 2020
Winter is in full swing, and if you're like us, that means you'll be spending a lot of time in the snow. These are the best ski socks that will keep feet happy and warm all winter long. Read more…