Voice steering revolutionizes avalanche beacons with ORTOVOX 'Diract'
The ORTOVOX Diract Voice is the first avalanche fire that delivers audible voice commands to those searching in search mode. We checked the device at this first glance.
Every second counts in an avalanche rescue scenario. In addition, most avalanche rescuers experience some or great panic when trying to save the life of a loved one. For this reason, ORTOVOX assumes that the latest technological advances in avalanche beacons will make a difference.
The ORTOVOX Diract Voice is an avalanche fire that speaks to you. It's the first of its kind, but after a few days of testing I don't think it will be the last. In short tests, I was shocked at the ease of use of this new type of avalanche signal.
In summary: The ORTOVOX Diract Voice ($ 380) is a revolution in avalanche rescue. While it doesn't replace avalanche education and training, the beacon amplifies that workout with a calming voice that guides you through the search process.
While it is too early to discuss all aspects of the Beacon's performance, my first reaction is that it is becoming the industry standard. It's worth noting that ORTOVOX also offers a simple Diract model ($ 320) that works the same but without voice guidance.
ORTOVOX Diract Voice Avanlanche Beacon
The ORTOVOX team is clearly proud of this new beacon. They sent one well in advance of the announcement and hosted a video conference with a group of writers that delved into the technology.
It's worth noting that the example I used is a prototype. ORTOVOX asked me not to use it in avalanche areas, so these tests were not carried out on skis, but only in parks where there was no avalanche risk (hence the photos without snow or skis). The ORTOVOX Diract Voice will be launched for consumers in September 2021.
My testing was very easy. I put a beacon on the ground in transmit mode and then found it with Diract Voice. And it turned out to be as easy as I could have ever wished for. Check out the short video below to see how I use the beacon on site.
An interesting note before the test: The Diract Voice has a built-in battery. This is a new development for ORTOVOX and for most of the industry in general.
According to ORTOVOX, the built-in battery was tested to -20 degrees Celsius. It's a nice change from the standard disposable alkalis!
ORTOVOX Diract Voice: How it works
You switch the Diract Voice on by pressing a button that is somewhat hidden by a bolt on the underside of the beacon. It's easy to squeeze with unloved hands, and you can lift the latch to squeeze it when you're wearing gloves.
Push the button and the beacon comes to life with a chime. The screen shows the percentage of battery life and offers a "group check" at the push of a button. If you do nothing, a voice says "Transmission enabled" after about 10 seconds.
In transmit mode, the beacon screen will flash approximately every second to visually confirm that it is on.
To switch to search mode, simply lift a lever at the top of the beacon (which covers the power button a bit).
Lift the orange lever and the beacon will beep a few times. If there is then no signal, the voice says: "Walk in 50 m long search strip and pay attention." This will begin your grid search pattern. The beacon intelligently detects possible interference such as cell phones. If there is interference, you have to make a 20 m search strip.
When the beacon receives a signal, you will be given specific instructions such as "go straight ahead", "go left", "go right", "turn around", "take the beacon into the snow" and "look for a fine" patterns. "
Meanwhile, the beacon displays icons on the screen that replicate the instructions. Once a signal is found, it will display an arrow and a distance to within 2 meters displays meters and decimals and a grid that indicates a fine search.
ORTOVOX Diract Voice Review
In my brief experience with this beacon, I found it incredibly easy to use. And I think a lot of other people will too.
In context, here is a little about my background: I'm an avid skier and have been in the backcountry for about 5 years. I took an Avi 1 course and spent a lot of time with guides and avalanche instructors. I wouldn't consider myself advanced in avalanche formation, but I have a decent amount of experience.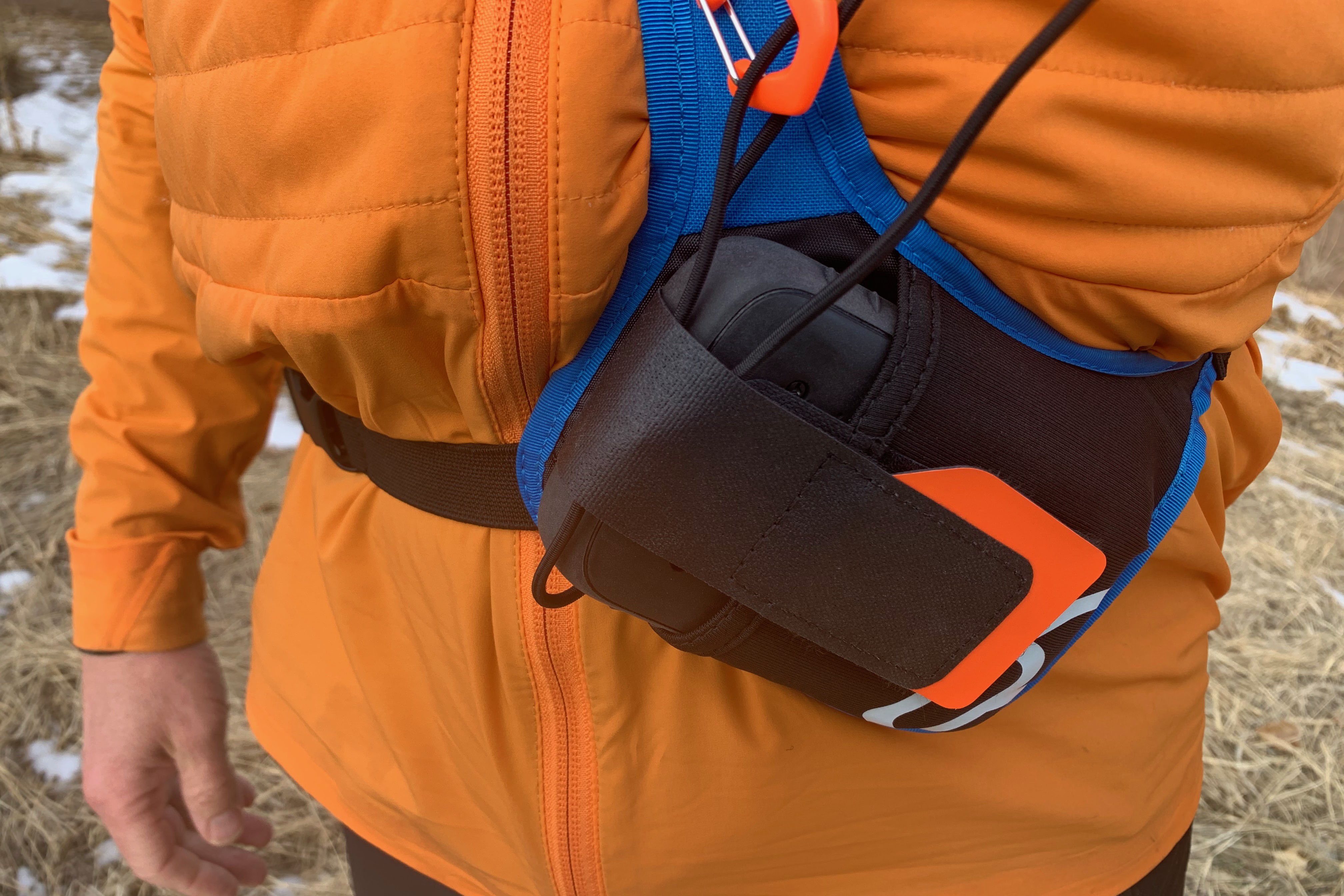 And for people like me, this beacon is great. It reinforces the teaching of your avalanche training. Hopefully this will help you overcome the panic in an emergency situation.
Using the beacon was intuitive. Even without voice commands, the screen gives feedback that is easy to navigate. During my tests, it received a signal from another ORTOVOX beacon at a distance of 32 m (35 yards). And ORTOVOX recommends an interference-free search strip width of 50 m. It is a three-antenna beacon that optimizes the transmission range with the help of "Smart Antenna" technology.
Finally, the beacon will automatically return to transmit mode after sitting still for 30 seconds with no movement and will give you a loud audible warning before resetting. This is intended as a safety measure in case you get caught in a second avalanche while working in search mode. It worked perfectly in my tests.
In the end, my test was short and certainly anything but conclusive. And a lot of people more experienced than me will be spending hours studying this beacon when it hits the market. But my first impression was wonderful. As long as it works as promised, I expect this signal will result in voice guidance becoming the industry standard in the near future.